The Sub Rooms, Stroud, Gloucestershire
Saturday 22 October 2022 – 6:30 pm – 8:30 pm
Peter Pan – A New Musical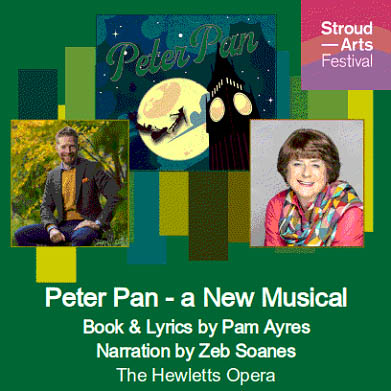 One of the highlights of the Stroud Arts Festival in 2022 is the first performance of a new musical based on the enchanting story of the boy who never grew up – Peter Pan!
The Book & Lyrics are written by Pam Ayres, and the Music is by Louis Mander.
The production will be narrated by Classic FM host and children's author Zeb Soanes, and the chorus provided by the Minpins Children's Choir.
An enchanting show for all the family.
Adapted with permission from Great Ormond Street Hospital Children's Charity.
For tickets go to:
Peter Pan: A New Musical | What's On | The Sub Rooms
For enquiries about the Stage Performing Rights, amateur or professional, of Peter Pan, please contact Platypus Rights Ltd, at info@acornents.co.uk.